Foxtrot (1982) upgrade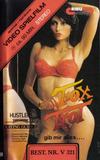 Director: Cecil Howard
Stars: Veronica Hart, Linda Vale, Marilyn Gee, Marlene Willough, Merle Michaels, Samantha Fox, Sandra Hillman, Sharon Mitchell, Tess Mayo, Tiffany Clark, Vanessa Del Rio, Alan Adrian, Bobby Astyr, David Davidson, David Morris, Jack Silver, Jack Teague, R. Bolla, Ron Jeremy
New Year's Eve day starts with rich old Mr. Luther seducing his maid D'Arcy. Zelda the artist is then shown touching herself. Ross the trumpet player gets an alternate treatment for his hangover by his lover Celeste. Louis the sailor hurries home to his missed girlfriend Betsy, and finds himself joining her and lesbian Faith. Ross fights and makes up with Brandy the singer. Erin the babysitter gets it on with her boyfriend Jonathan. Having enough, Louis heads to a pub and finds himself leaving with a lonely wife. Her husband Artie does the same with Zelda. The party begins as Celeste arrives as Mr. Luther's caterer and catches him with his maid. She hides in the laundry room after he tries to do the same with her, but he follows her and his maid locks it externally. Elsewhere, Alice the starlet tries to get a casting couch with Roman the producer, while her mother Gloria is picked up in the party by younger guest Arthur.
Mine over 1.04 GB, 640x480, 1 hour and 17 min, 29 fps.
Not sure how you consider yours, smaller video resolution, shorter running time, an upgrade.
RIBU Version
Format : Matroska
File size : 622 MiB
Duration : 1h 14mn
Width : 696 pixels
Height : 480 pixels
Display aspect ratio : 4:3
English
*Requires at least Gold Membership Level!
Notes: Platinum Membership has access to the entire (100%) website and also opens the hidden content. Gold Membership opens 80% and Silver 50%. Bronze Membership is for 20% content access of this blog's hidden parts.