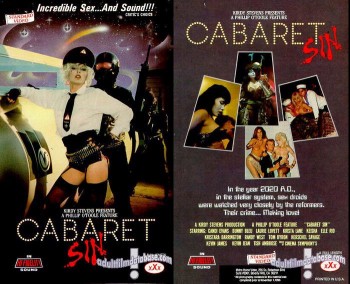 Had to edit 3 mins of gay action in here as well; you ain't missing much, let us tell ya.
Cast: Actresses:
Bunny Bleu
Candie Evens
Gail Force
Keisha
Krista Lane
Kristara Barrington
Leslie Winston
Lorrie Lovett
Tish Ambrose
Actors:
Chris Thompson
Greg Derek
Hershel Savage
Kevin James
Napoleon
Randy West
Tex Anthony
Tom Byron
Scene Breakdowns
Scene 1. Lorrie Lovett, Tom Byron
Scene 2. Leslie Winston, Kevin James
Scene 3. Candie Evens, Keisha
Scene 4. Candie Evens, Greg Derek
Scene 5. Bunny Bleu, Chris Thompson, Tex Anthony
Scene 6. Krista Lane, Greg Derek
Scene 7. Leslie Winston, Tish Ambrose, Herschel Savage
Scene 8. Krista Lane, Greg Derek
File Size: 901.56 MB .avi
Resolution: 512x384 @29.97fps
Duration: 01:17:04
We have this movie in our collection for over 3 years and we didn't know our copy was edited until we came into this thread to replace the dead links

File Name : Cabaret Sin (1987).avi
File Size : 901.56 MB
Resolution : 512x384
Duration : 01:17:04
*Requires Platinum Membership Level!
(Platinum is the Highest Membership Level on Vintagepornbay.com)
Notes: Platinum Membership has access to the entire (100%) website and also opens the hidden content. Gold Membership opens 80% and Silver 50%. Bronze Membership is for 20% content access of this blog's hidden parts.