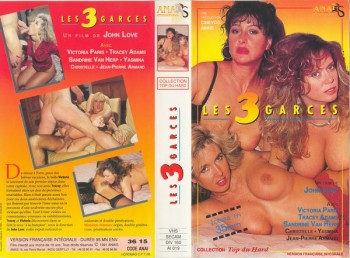 Cast: Actresses:
Mina Houghe as Yasmina
Paulette Possilby as Christelle (on VHS cover)
Sandrine van Herpe
Actors:
Jean-Pierre Armand
Christophe Clark as Christophe Grosso
Alain L'Yle
Roberto Malone
Description: De retour à Paris, pour des brèves vacances, la belle Victoria se souvient de son premier séjour dans notre Capitale.
What did these girls do to deserve so many dicks in every hole. They are taking it in stride as they get fucked in both holes, and they even get some TLC in the form of a nice tongue lashing right on the clit by their beautiful friend who is turning a little Lezzy with all the sights of fucking!

File Name : Les Trois Garces(1990).avi
File Size : 967.12 MB
Resolution : 600x452
Duration : 01:24:14
*Requires at least Gold Membership Level!
Notes: Platinum Membership has access to the entire (100%) website and also opens the hidden content. Gold Membership opens 80% and Silver 50%. Bronze Membership is for 20% content access of this blog's hidden parts.