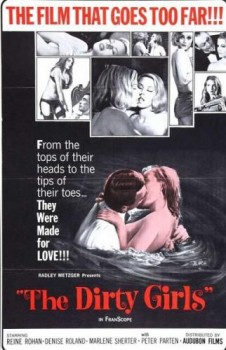 The Dirty Girls Trailer

This is just short version of the movie. To download full movie in good quality go to our
Premium Memberships
The Dirty Girls (1965)
Year: 1965
Country: USA
Genre: Drama
Duration: 01.18.11, 00.06.43
Language English
Director: Radley Metzger
Studio: Charles Film
Starring: Reine Rohan ... Monique
Denyse Roland ... Garance
Marlene Sherter ... Nadia
Peter Parten ... Robert Marshall
Anne Stengel ... Madelene
Lionel Bernier ... Michel
Wolf Peterson ... Host
Marie Edmund ... Guest
Description: In Paris, the City of Love, Garance can be found each night on the Champs-Elysees, or in a small bistro. This evening, Garance will entertain a shy young student, a hot-headed sadist, and an older gentleman.
File Size: 1.2 GB
Video quality: DVDRip
Video Format: MKV
Video: AVC at 2006 kbit / s 720 x 288 (2.188)
Audio: AC-3 at 192 kbit / s 1 channel, 48.0 KHz
*Requires at least Bronze Membership Level!
Notes: Platinum Membership has access to the entire (100%) website and also opens the hidden content. Gold Membership opens 80% and Silver 50%. Bronze Membership is for 20% content access of this blog's hidden parts.