Front: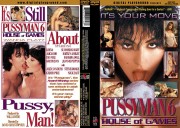 Year: 1994
Country: USA
Language: English
Director: David Christopher
Starring: Kaitlyn Ashley, Gerry Pike, Krysti Lynn, Jeannie Pepper, Steve Drake, Alex Sanders, Nick East, Leena, Kyle Stone, Alicia Rio, Barbara Doll, Isis Nile, Rebecca Bardoux, Summer Knight.
File size: 1,23 GB
Run time: 01:30:00
Type of file: Mpeg
Language: English
DVD Rip
Scenes:

Scene 1. Krysti Lynn, Rebecca Bardoux, Alex Sanders
Scene 2. Jeannie Pepper, Gerry Pike, Kyle Stone
Scene 3. Kaitlyn Ashley, Krysti Lynn, Leena, Rebecca Bardoux
Scene 4. Barbara Doll, Kaitlyn Ashley, Steve Drake
Scene 5. Leena, Nick East
Scene 6. Alicia Rio, Isis Nile, Summer Knight
Description: Spontaneous, reality based sexuality that really smolders. It's a house full of luscious ladies. Rebecca Bardoux, Alex Sanders, and Krysti Lynn get the festivities in motion with fabulous girl on girl fun. Then Jeannie Pepper demands that her pussy gets pleased by two rock hard cocks....:
*Requires at least Gold Membership Level!
Notes: Platinum Membership has access to the entire (100%) website and also opens the hidden content. Gold Membership opens 80% and Silver 50%. Bronze Membership is for 20% content access of this blog's hidden parts.