Another one provided by Blakniko who asked us to post it in his name.
Image quality (512X384).
Length : 1h16 followed by 11 minutes previews
Language : English
Info from IMDb
40 the Hard Way (1991)
Distributor Odyssey
Minutes 76
Directed by Giovanni
Cast :
Kitten Natividad Kitten Natividad ...
Wife 3
Toni Alessandrini Toni Alessandrini ...
Wife 1
Flame Flame ...
Daughter 1
Valhalla Valhalla ...
Wife 2
Marc Wallice Marc Wallice ...
Hired Help
Sean Michaels Sean Michaels ...
Dance Instructor
Julie Juggs Julie Juggs ...
Wife 4 (as Alexis Gold)
James Lewis James Lewis ...
Husband 2
Sasha Gabor Sasha Gabor ...
Husband 1
Joey Murphy Joey Murphy ...
Delivery Guy
Stephanie Page Stephanie Page ...
Masseuse (uncredited)
Film Editing by
Jim Enright
Storyline
One Beverly Hills housewife watches her husband getting more than a massage from a masseuse. Another seduces her friend's daughter. A buxom wife is videotaped with the daughter's father and the second wife's young husband. The daughter is seduced by her African-American dance instructor. Another wife gets serviced by a delivery guy, while wives 1 and 2 videotape themselves with another hired help. Husband 1 finds the revenge video tape exciting. Written by Anonymous
From IAFD
Scene Breakdowns
Scene 1. Stephanie Page, Toni Alessandrini, Sasha Gabor
Scene 2. Flame, Valhalla
Scene 3. Kitten Natividad, James Lewis, Sasha Gabor
Scene 4. Flame, Sean Michaels
Scene 5. Julie Juggs, Toni Alessandrini, Valhalla, Joey Murphy, Marc Wallice
Caps :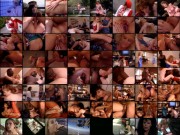 1 mp4 file of 276.489 KB
*Requires at least Gold Membership Level!