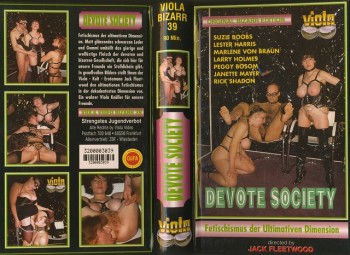 Devote Society (1989)
Year: 1989
Country: Germany
Genre: Classic, Hardcore, All Sex
Duration: 1:10:47
Language: German
Studio: Viola Video
Cast: Females: Suzie Boobs, Marlene Von Braun, Peggy Bosom, Janette Mayer
Males: Lester Harris, Larry Holmes, Rick Shadow
Description: Fetischismus der ultimativen Dimension ....
File Size: 1.0 GB
Video quality: VOD
Video Format: AVI
Video: Video: Xvid 512x384 25fps [Stream 00] Overall bit rate: 058 Kbps 2
Audio: Audio: MP3 48000Hz stereo 123kbps [Stream 01]
*Requires at least Gold Membership Level!
Notes: Platinum Membership has access to the entire (100%) website and also opens the hidden content. Gold Membership opens 80% and Silver 50%. Bronze Membership is for 20% content access of this blog's hidden parts.