from the back of the box:
There's a mad tickler on the loose and Detective Joe Thursday and his partner Washington are hot on the trail. They visit a victim and drill her, but get nothing. Maybe Female Det Tucker can get something out of her. The Tickler strikes again!!! Tucker interviews another victim: they try ; Washington likes the results. Thursday goes undercover and puts the arm on the suspect.
Our notes:
This movie has several of the same characters as "The Case of the Cockney Cupcake", which We have posted here. If anyone has any of the other "Case of the" Joe Thursday movies, it would be great to have them posted here, too.
Cast: Megan Leigh, Alicia Monet, Barbi Dahl, Lauryl Canyon, Jon Martin, Mike Horner, Blake Palmer
Director: Scotty Fox
Language: English
Format Video: WMV
Duration: 01:15:43
Resolution: 640 x 480
Size: 593 MB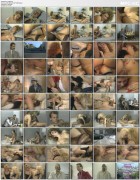 *Requires at least Gold Membership Level!