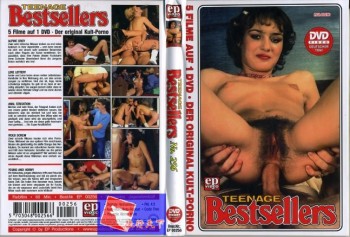 Teenage Bestsellers #256 (1970)
Country: Denmark
Genre: All Sex, Lesbian, Oral, Anal
Duration: 00:55:03
Studio: Color Climax
Description: If you have been loving porn for years, the chances are that your first teenage porn movie was a Color Climax. Then you will really appreciate the re-appearance of this European cult genre.
Digitally re-mastered, but still a little grainy by modern expectations, they are a delight. Five shorts rolled into one unbroken hour of retro-pleasure. All the shows feature fresh-faced fraulines from Denmark and Sweden with a Nordic cock lust
ALPINE ORGY - A rug-munching fest with two young girls who include their ski instructor in the action.
LOVE LOTTERY - A pair of insatiable nymphs get their hands on a young stud.
ANAL SENSATION sees a pert blonde waif with nipples like tent-pegs. Seriously, she could have someone's eye out with them! In those days girls were really impressed by a man with a camera, so horny Hans and Herman get to cram her ass with cock and sandwich sex her.
VIDEO SCREW - Bra-free early '70's ​​babes in a clinch with a randy sex-shop owner welcome a passing young boy to the fray.
YOUNG AND HORNY - Two handsome brothers share a fresh-faced girlfriend and explode impressively all over her.
File Size: 499.8 MB
Quality: VHSRip
Format: AVI
Video: DivX 5 512x384 25.00fps 1122Kbps
Audio: MPEG Audio Layer 3 48000Hz stereo 133Kbps
*Requires at least Silver Membership Level!
Notes: Platinum Membership has access to the entire (100%) website and also opens the hidden content. Gold Membership opens 80% and Silver 50%. Bronze Membership is for 20% content access of this blog's hidden parts.