Director:Tinto Brass
Stars:Claudia Koll, Paolo Lanza, Franco Branciaroli, Ornella Marcucci and Isabella Deiana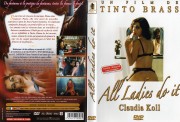 Title: Così fan tutte (1992)
Published: 1992 in Italy by Faso Film S.r.l.
Format : MPEG-4
File size : 1.65 GiB
Duration : 1h 36mn
Overall bit rate mode : Variable
Overall bit rate : 2 445 Kbps
Width : 980 pixels
Height : 552 pixels
Display aspect ratio : 16:9
Language: English or Italian.
Quality: Excellent.
Lots of info about (and cover images from) this film at IMDB, so We won't add lots of details here (Claudia Coll/Koll/Colacione is mentioned here and below so that local searches will find the posting):
http://www.imdb.com/title/tt0104014/
Stars: The primary star is Claudia Coll (also spelled Koll, her name at birth was Claudia Colacione), the entire movie gravitates around her tremendous erotic radiation. If you're a Tinto Brass fan you need to see her in this film, it is a genuine Tinto Brass pearl!
Writer and director: Tinto Brass, with writing assistance from Francesco Costa
This is an unbelievably erotic and sexually explicit movie. It contains pornographic elements but the tasteful style of Tinto Brass augments the erotic impact by limiting the sexual level and by packing the direct sex in an intense erotic frame. We've seen several Tinto Brass films and IMHO this is by far the best and most erotic. Claudia Coll is unbelievable, she comes across as though she were crazy, especially in the orgy scene towards the end of the movie, where she apparently has genuine sex on camera and lots of other things can be seen at the orgy as well. We love the scene where she's enjoying a drink and several guys come up and enjoy her body while she's talking with her boyfriend on her cell phone (see the small collage below, the scene begins at 1h13m in the film). She appears with a naked ass and breasts immediately at the start of the film... and yes, she apparently has hairy armpits (and obviously a hairy pussy), but they don't disturb those of you who, like us, don't really get off on body hair...:
>>Watch or Download>> All Ladies Do It/Così fan tutte (1992) [Classic Nude] [Watch & Download]